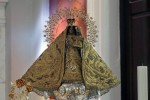 Famous musicians will star Sunday in the concert Misa Cubana (Cuban Mass), composed by Jose Maria Vitier for Our Lady of Charity, the Patron Saint of Cuba.
The concert, to be directed by Vitier at the Covarrubias Hall of the National Theater, will star singers Barbara Llanes, Maria Felicia Perez, Augusto Enriquez and Liuba Maria Hevia.
This special event will mark the 100th occasion the Cuban Mass is played (30 of them in Cuba) since it was premiered at the Cathedral of Havana in 1996, Vitier told journalists.
In all performances we have appreciated that the theme appeals to the feelings, and even people who do not share our ideas can communicate through it, as sometimes the emotions unite what the ideas separate, he said.
Misa Cubana has been played in Washington, Montreal, Rome, Lisbon and Tel Aviv. It has also been wildly applauded in cities of France, Denmark, Switzerland, Ecuador, Brazil, Argentina, Mexico, the Dominican Republic, Trinidad and Tobago and Spain.