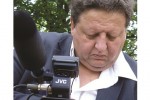 The world of filmmaking mourns the loss of Canadian filmmaker Peter Wintonick, considered as the "international ambassador of documentary film".
Wintonick died in Montreal at the age of 60, victim of cancer.
According to news sources, the renowned producer, director, writer and editor was recently diagnosed with a rare form of liver cancer and since last week had been in an intensive care unit in a Montreal hospital.
Wintonick was born in Ontario, but lived in Montreal (Quebec).
His best known film is Manufacturing Consent: Noam Chomsky and the Media (1992), screened in more than 200 cities worldwide and the winner of some 20 awards.
The International Documentary Festival being held this week in Montreal paid him a posthumous tribute.