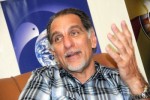 René González, one of the five anti-terrorist Cuban fighters given harsh sentences in US prisons, will address the US people for the first time through a videoconference from Havana, a solidarity group confirmed.
Gonzalez was released in October, 2011, after serving his sentence, but then he was forced to remain in the United States under a three-year supervised released until recently, when he returned to Cuba for family reasons and gave up his US citizenship.
Rene will inaugurate along with other figures the Second Five-Day Event for the Cuban Five to be held in Washington DC as of today.
A communiqué from the International Free The Five Committee explained hat the ceremony will run in parallel in Havana and Washington in the National Press Club.
The event in Washington will include Spanish writer Ignacio Ramonet, who is the author of the book "One Hundred Hours with Fidel" and former chief editor of Le Monde Diplomatique, as well as Dolores Huerta, a co-founder of the United Farm Workers Association, awarded with the Medal of Liberty by US President Barack Obama in 2012, says the note.
Another participant will be Wayne Smith, former chief of the US Interest Section in Havana under the James Carter Administration and currently a main researcher here of the Center for International Policy.
On May 29-June 5, representatives of 22 countries will take part in a series of events of reflection and exchange to defend a change of policy towards Cuba and for the release of The Cuban Five, as Gerardo Hernandez, Antonio Guerrero, Fernando Gonzalez, Ramon Labanino and Rene Gonzalez are internationally known, noted the solidarity group.
Organized by the International Free The Five Committee, this Second Five-Day Event for The Cuban Five in Washington DC is considered to be the most important action this year in the United States for these Cuban heroes.