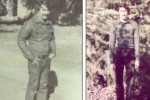 The remains of Jesus Cejas, a member of the Cuban diplomatic service in Argentina who was who was kidnapped and later on murdered in 1976, were found by of the Argentinean Unit of Forensic Anthropology (EAAF, in Spanish).
The information was formally provided by that institution, which officially informed the Cuban Embassy in Buenos Aires this Friday.
Cejas Arias was kidnapped on August 9th, 1976, in the Argentinean neighbourhood of Belgrano, together with his compatriot Crescencio Galañena Hernández. They were both kept in illegal captivity, and tortured in Automotores Orletti clandestine centre of detention.
That center was established by the then State Secretariat of Intelligence (SIDE) as headquarters for the so-called Condor Plan, which was commanded by Anibal Gordon and other members of Triple A, which is how the Argentinean Anti-communist Alliance is known here.
Triple A was an extreme right-wing paramilitary terrorist group that murdered artists, intellectuals, guerrillas, left-wing politicians, students, historians and union leaders. The group used methods such as threats, summary executions, and forced disappearance of persons.
According to forensic sources, the remains of Cejas Arias were hidden into a 200-litre capacity tank filled with cement.
The remains of Galañena Hernández were found in June, last year, together with the bodies of María Rosa Clementi de Cancere, a lady who was also worked in the Cuban Embassy, and Ricardo Manuel González, who were all kidnapped in August, 1976.
(Taken from PL and translated by Escambray)