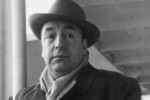 The remains of Chilean poet Pablo Neruda were exhumed for submission to expert examinations, to determine whether his death was natural or caused by the dictatorship of Augusto Pinochet.
The casket was taken from the tomb located at one end of his house-museum in Isla Negra, 110 kilometers northwest of the capital, where he rests his widow, Matilde Urrutia.
The remains were transferred to the Forensic Medical Service in this capital for forensic investigation in response to a criminal complaint filed by the Communist Party of Chile.
In response to the request, in late February of this year the judge ordered Mario Chariot perform the process opened many years after prevailing version indicated that the poet died of prostate cancer.
The preparatory work for the exhumation began on the afternoon of Sunday, with the first efforts aimed at opening the grave stone and concrete set in the garden of what was once his house in Isla Negra, in the region of Valparaíso.
A team of 12 experts from the Forensic Medical Service and Police Investigation came to the place, where he placed a tent and placed all his instruments to be used in the work.
According to experts, the results of the analyzes could take up to three months.
The case was sparked in 2011 after Neruda's driver, Manuel Araya, revealed that a strange injection was placed in the abdomen of the Nobel Prize for Literature 1971, while still at the clinic Santa Maria.
Neruda became alarmed and called his wife Matilde Urrutia, even tried to contact Araya, who was that day in Isla Negra house commissioned by the poet, on the eve of the trip I had planned to go into exile in Mexico 24 September 1973, the day before his death.
After the death of Neruda, his driver was arrested and held in the National Stadium, then a dictatorship become the center of torture and death.
Years later, Araya's testimony appeared in an article in the Mexican magazine Proceso, written by Chilean journalist Francisco Marin.
The revelations of the driver denied the opinion of the doctors, who certified that the writer died of cancer cachexia.