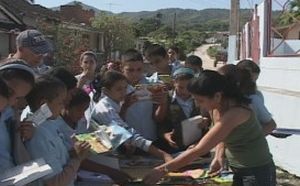 The festival of the printed letters continue this Friday in Sancti Spiritus mountains, as readers rejoice with the Book Fair.
Intricate communities of Escambray mountains, in Fomento municipality, are venue of the presentation and sell of books, as well as the exchange among residents and visitors.
In the second day of the cultural event students and teachers of rural schools welcomed authors and participated in book presentations to encourage children the interest on the reading activity.
Some films related to the Cuban participation in Angola were also projected in the municipality's head cinema, while the library was host to a panel on poetry in charge of specialists.
Fomento (some 49 km away from the provincial capital Sancti Spiritus) is the main stage of the festival of the printed letters, which every year takes place after the International Book Fair of Havana and its tour across Cuba.
The traditional meeting El Clarín de la Montaña is scheduled for Saturday, rendezvous of poets and repentistas (improviser of oral verse) that will be held in one of Fomento's mountains.
TRANSLATED BY ESCAMBRAY