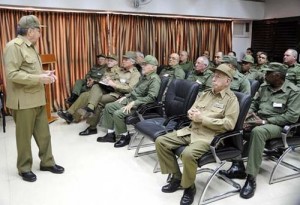 President Raul Castro visited the Provincial Defense Council in Artemisa, about 45 kilometers from Havana, to learn the activities developed during the strategic exercise Bastion 2013. This territory particpates for the first time in a military exercise of this kind, as it was established as province in January 2011.
During the visit held Thursday, the president of the Provincial Defense Council, Jose Antonio Valeriano, explained that as of an experiment taking place in the leadership structures of that territory, the defense was also strengthened.
Valeriano also provided details about the dynamics of the exercise which began on Tuesday, Nov 19, and ends today, although as a culmination, there will be two National Defense Days, on Nov. 23 and 24.
Raul Castro, who is also the president of the National Defense Council, analyzed the importance of this area for the country, given its proximity to the capital.
The Cuban press reported that as part of the visit, the president toured the Mausoleum to the Heroes and Martyrs of Artemisa, who participated in the attack on the Moncada Garrison on July 26, 1953.
That military action was led by Fidel Castro, and is considered the beginning of the struggle which ended with the overthrow of Fulgencio Batista in 1959.
At the mausoleum, Raul Castro laid two wreaths, shared anecdotes about the war, and stressed the value of those young people who gave their lives for the Revolution, the note added.