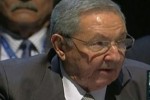 Cuban President Raul Castro, considered at the First Summit of CELAC that integration should advance along the path of unity and sovereignty in a turbulent and complex global scenario.
"Without our unity, nothing would be possible and all the achievements would be lost," he said when speaking at the plenary forum of the Community of Latin American and Caribbean States (CELAC), which concludes today at the center of events Espacio Riesco in the Chilean capital.
Raul Castro recalled the position taken by the region in the Summit of the Americas in Cartagena, Colombia, where the zone claimed Argentina's sovereignty over the Falkland Islands and demanded an end to the economic, commercial and financial blockade imposed by the United States against Cuba for more than 50 years.
"The exercise of self-determination and sovereignty of peoples and sovereign equality of States are inalienable principles of CELAC," he said.
For the head of state, the community founded in December 2011, in Venezuela, by the 33 independent countries of the region, represents a common vision of great homeland, beyond differences and different thoughts.
In his speech, the Cuban president stressed the importance of sovereign control of the vast natural resources of Latin America and the Caribbean, in order to move towards sustainable development, integration and enrichment of culture.
Commenting on the scenario in which CELAC is developing, he warned of threats to peace, interference in the internal affairs of countries, climate change and the goal of the transnational, mainly from the United States, of controlling energy resources, water and minerals in the region.
"Two decades after the cold war ended, the huge nuclear and conventional arsenals grow. The international economic order is unfair and exclusionary, caught in a global crisis to which, for now, there is no solution in sight," he added.
Raul Castro reaffirmed the support of the island to the decision of the Union of South American Nations against parliamentary coup in Paraguay.
He also maintained that "our community will be incomplete as it is missing the seat of Puerto Rico, sister nation genuinely Latin American and Caribbean suffering from a colonial situation."
In his speech he also called for a strong social dimension for CELAC, with an approach aimed at solving the problems of poverty, education and drug use.
During the final day of the First Summit of the block, other presidents discussed the fight against poverty and drug trafficking, the protection of food security and the environment.
They also supported Argentina in its claim for sovereignty over the Falkland Islands, occupied by the United Kingdom, as well as the rejection of the economic, commercial and financial blockade imposed by the United States against Cuba for more than half a century.
The interventions included congratulations to Cuba, country that assumes today the rotating presidency of CELAC, and Chile for its efforts in that responsibility and the organization of the Summit.