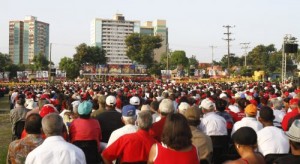 Army General Raul Castro, president of the Councils of State and Ministers of the Republic of Cuba and first secretary of the Communist Party, presides over the major national ceremony to mark the 60th anniversary of the attack on Moncada and Carlos Manuel de Cespedes garrisons, being held at Santiago de Cuba's Ciudad Escolar 26 de Julio.
As a sign of reciprocity to Cuba's spirit of solidarity, important leaders from Latin America and the Caribbean participate in the celebration, such as, the presidents of Venezuela, Uruguay, Bolivia and Nicaragua: Nicolas Maduro, José Mujica, Evo Morales and Daniel Ortega, and Winston Baldwin Spencer, Kenny Davis Anthony, and Ralph Gonsalves, prime ministers of Antigua and Barbuda, St. Lucia and St. Vincent and the Grenadines, in that order.
Some 10 000 residents of Santiago de Cuba are present in the ceremony, also attended by participants in the Moncada garrison attack, Granma yacht expeditionary men, and underground fight combatants.
Also present in the commemoration are representatives of the diplomatic body accredited in the island, and relatives of the Cuban Five unfairly kept in US prisons for almost 15 years now, and Rene Gonzalez, the first of the Five to return to Cuba.
Besides demanding US President Barack Obama the immediate release of Gerardo Hernández, Ramón Labañino, Fernando González, and Antonio Guerrero, the commemoration will also serve to confirm that Cuba will gradually implement the Guidelines of the Economic and Social Policy of the Party and the Revolution adopted in the VI Party congress.
The 26th of July national celebration will honour those fallen six decades ago, and will be proper occasion to recognize the endeavour of locals after being hit by hurricane Sandy last October.