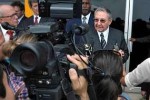 Cuban President Raul Castro leads his country's delegation to the First Summit of the Community of Latin American and Caribbean States (CELAC) to take place on January 27th and 28th in Santiago de Chile.
During the meeting, Cuba will welcome the pro tempore presidency of this organization for 2013.
On January 26th the First CELAC-European Union Summit will also be held.
The Cuban delegation is comprised also of Miguel Diaz-Canel, vice president of the Council of Ministers and Bruno Rodriguez Parrilla, minister of Foreing Affairs.
Taken from Prensa Latina/Translated by Escambray