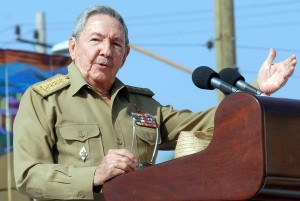 Cuba  has counted on the solidarity of the nations of this region.
In his speech at the national ceremony held to mark the 60th anniversary of the attacks on Moncada and Carlos Manuel de Cespedes garrisons, Cuban President Raul Castro expressed his appreciation for the remarks by Latin American and Caribbean heads of state and government, who gave their full support of Cuba.
The Cuban head of state said that the island has counted on the solidarity of the nations of this region, which reveals the changes occurred in the continent.
Raul Castro paid tribute to all those, who were killed in action in liberation wars over the past centuries. He also stressed the figure of Revolution leader Fidel Castro who, filled with strong optimism along his sacrifice-withstanding people, was able to place small Cuba on the world map as a country that honors respect and human dignity.
The First Secretary of Cuba's Communist Party also paid tribute to women and the young generations of Cubans, who continue to support the revolutionary ideals and he assured that the people will continue to fight tirelessly for the return to the homeland of the four anti-terrorist fighters, who have been imprisoned in the United States since 1998.
The Cuban president expressed his deepest and heartfelt tribute to undefeated commander Hugo Chavez, whom he described as an outstanding disciple of the most prominent heroes of this region of the world.
Raul highlighted the revolutionary process underway in Bolivia; the triumphant revolution in Ecuador, being led by Rafael Correa; Uruguay's social progress, and the achievements of Venezuela and other nations with the Bolivarian Alliance for the Peoples of our Americas.
Finally, the head of state said that that the Community of Latin American and Caribbean States, currently being chaired by Cuba, will keep consolidating.
Addressing the ongoing recovery of Santiago de Cuba, hard hit by Hurricane Sandy last October, Raul Castro expressed his gratitude, on behalf of the storm's victims, to the different governments and nations that have contributed to the reconstruction of the eastern city.
Following the ceremony, Raul Castro and several Latin American and Caribbean leaders paid tribute to National Hero Jose Marti at the Santa Ifigenia cemetery.  They laid a wreath in the mausoleum that treasures the mortal remains of the apostle of Cuban independence.
[nggallery id=74]