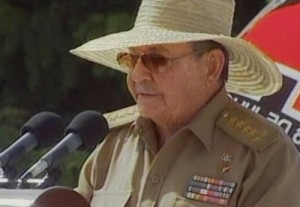 Even in the most difficult times the Cuban Revolution has been friendly and loyal, said Army General Raul Castro, president of the Cuban Council of States and Ministers of the Republic of Cuba, and first secretary of the Communist Party, as he delivered his speech on occasion of the 60th anniversary of the attack on the Moncada and Carlos Manuel de Cespedes Garrisons, staged in Santiago de Cuba's Ciudad Escolar 26 de Julio.
Raul remembered that even in the hardest moments, when Cuba was meant to be isolated, and the United Status of America imposed its blockade, Mexico extended its solidarity to us, and our country has never refused to help other nations in the region.
The Cuban President recalled that 20 years after the triumph of the Cuban Revolution, Nicaragua's was born, and two decades later the Bolivarian work of Hugo Chavez and Nicolas Maduro.
Raul brought also to mind the social progress in Bolivia, Ecuador, Uruguay and the Caribbean countries, nations that advocate development, justice and equality.
During his speech, the Cuban leader also thanked the brother countries that assisted our nation after hurricane Sandy hit us last year.
[nggallery id=74]