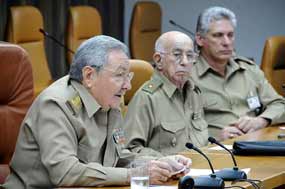 Cuban President Raul Castro said that his country has to constantly study and improve each one of its tactics and methods in order to be ready to respond any enemy aggression.
According to Granma daily, the president said during the Bastion 2013 Videoconference with which Bastion 2013 Military Drill was concluded, that another step in the developing of the defense of the Revolution was made with this maneuver.
Bastión 2013, which started on Tuesday after a speech of the also President of the National Defense Council, is aimed at increasing the level of training and unity of this nation to respond military aggressions.
Preventing a war means to win it , but to win it avoiding it, it is necessary to spend a lot of resources that could go to other vital needs of the population and the country´s development, said Army General Raul Castro.
The president urged the population to continue preparing for the next military drill, to be carried out in 2016.
On behalf of the National Defense Council, Raul Castro congratulated the Cuban people for carrying the activities satisfactorily, and called the Cuban people to take in the national defense days this weekend.