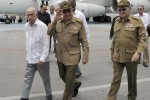 Cuban President Raul Castro returned from Venezuela this Sunday afternoon after participating in the swearing-in ceremony of President Nicolas Maduro.
Raul was received at the Jose Marti International airport by the Second Secretary of the Cuban Communist Party Jose Ramon Machado Ventura and by the Minister of Interior Corps General Abelardo Colomé Ibarra.
During his stay in Venezuela Raul attended the civic military parade at the Avenida de los Próceres when Maduro was acknowledged as Commander in Chief. They also recalled the 203rd anniversary of the start of the Independence Wars against Spain.
The Cuban President also paid homage to late Hugo Chavez, and met with several Latin American leaders