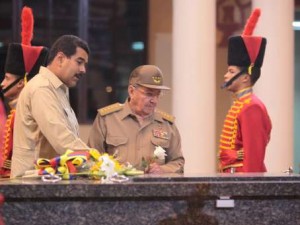 Cuban President of the Councils of State and Ministers, Army General Raul Castro, paid a visit Saturday to Cuartel de la Montaña (Mountain Barracks), where the remains of Venezuela Bolivarian Revolution leader, Hugo Chavez, are kept.
The Cuban head of state rendered military honors to Chavez, and placed a white rose on the sarcophagus for the eternal rest of his deceased friend. Afterwards, he talked with President Nicolas Maduro, and with other top representatives of the Bolivarian Republic of Venezuela.
Castro was accompanied by Cuban Minister of Foreign Relations,  Bruno Rodriguez, and by Cuban Ambassador to Venezuela,  Rogelio Polanco.
Other presidents of the region like Nicaraguan Daniel Ortega, and Argetinean Cristina Fernandez were also present in the homage.
[nggallery id=67]
(Taken from Juvetud Rebelde,  and translated by Escambray)