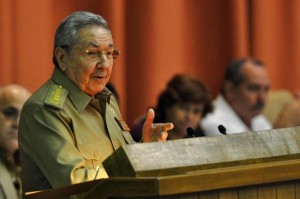 Cuban President Raul Castro today attended the 2nd ordinary period of sessions of the 8th Legislature of the People Power National Assembly (Parliament).
In today session, deputies discuss the budget draft law and the economy plan for 2014, as well as the economic situation during 2013.
The forum passed a new Labor Code yesterday, whose draft law was voted by the workers since mid this year.
Vice President Marino Murillo also spoke at Parliament about the march of the Cuban economic model updating and the implementation of the policies passed in the last congress of the Cuban Communist Party.
Murillo said that the Cuban government works on a long-term economic development plan until 2030, and concluded the drawing of the first version of the Cuban social and economic model conceptualization, as well as the long-term project, which should be ready in 2015.