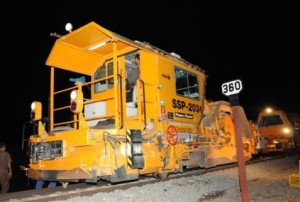 The route for the national trains at kilometer 360 of the Central Road is restored.
Just after 8:30 pm on Sunday, the route for the national trains at kilometer 360 of the Central Road, in the location known as Zaza Norte that links the East of Cuba to the west, was restored.
Cuba's Railroad Union allocated the necessary resources to bring back traffic on this route, of great importance for the country's train communication.
Sancti Spiritus: Rail Accident Reported Near Zaza del Medio
Photos of the Rail Accident in Zaza Norte, Sancti Spiritus
The rail transit through that portion of the line had been discontinued shortly before that hour on Friday, October 18, when 15 waggons of a freight train traveling from Havana to Camaguey derailed.
After two intense days of work carried out by the forces of the Construction Engineering Enterprise (ECOI-30), of the Ministry of Construction in Sancti Spiritus province, and by railroad workers from the territory and neighboring Villa Clara, the pieces made of concrete and rails of 12.5 meters in length were replaced, and two modern equipments of the Placetas Mechanized Brigade of Roads and Bridges assumed the leveling and compaction of the line.
René González Molina, director of the Central Railroad Company, praised the speed, intensity and quality of the recovery works, which took place almost continuously for 49 hours
González Molina explained the extensive damage caused by the incident and the decision of the Cuban Railway Union to allocate all necessary resources to restore the traffic on this route, considered as key to the country's railway communication .
The train crash was due to the derailment, of causes still under investigation, of 15 of the 30 waggons of the freight train, eleven of which fell from a height between 20 and 25 feet below the Zaza Norte bridge, in the vicinity of Sancti Spiritus town, Zaza del Medio.