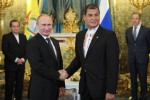 Ecuador's President Rafael Correa arrived in France, as part of a European tour that also took him to Russia and Belarus, with the objective to strengthen bilateral ties and enhance economic cooperation.
Correa will carry out a private visit here, before starting his official activities on Nov. 6, when he will be received at the Palais des Invalides in Paris.
The Ecuadorian President will comply with an extensive agenda in France that includes interviews with his peer, François Hollande, and the ministers of the National Assembly and the Senate, Claude Bartolone, and Jean Pierre Bell, respectively.
This is Correa's second visit to France, after the one he carried out in 2008, where he was received by President Nicolas Sarkozy.
The Ecuadorian head of state arrived in Paris, after concluding a trip to Belarus, where he met with his peer, Alexander Lukashenko, and agreed with the authorities some measures to strengthen the economic and trade cooperation in more than a dozen areas of common interest.
This first official visit by Rafael Correa to Belarus was an important step in the mutual interest of speeding up cooperation in many spheres, this country's media highlighted today.