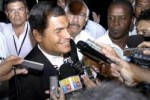 More than 6,000 followers of the governmental PAIS Alliance Movement met in the Ecuadorian capital to support the group's presidential candidate, Rafael Correa, and the deputies to the National Assembly.
"We can lose everything we have achieved if we do not support the citizens' revolution process in the elections next February 17," said President Correa, who is running for re-election.
"We had a homeland of despair," he said.
"They told us we could not stop paying the debt and we renegotiated it in our term, moving seven billion U.S. dollars to the service of the Ecuadorian people. We had two million migrants and in two years, seven presidents, because the international bureaucracy, the International Monetary Fund were the ones who governed, but we have recovered the country," he added.
Correa made a call for a united vote in the election on February 17, in order to reach a majority at the National Assembly, where the PAIS Alliance will need to govern in a politically coherent way.
At present, opposition in parliament is hampering the course of more than five laws, among them the Criminal and Land Laws, and another regarding water and communication.
The Rafael Correa-Jorge Glas ticket from the PAIS Alliance Movement faces seven opposing tickets.
Opposing nominations come from the Movement Creating Opportunities (CREO), the Patriotic Society Party (PSP) and the called Coordinator Plurinational Left, followed by the Rupture Movement, the Institutional Renewal Party (PRIAN), and the United Society Movement for More Action (Suma), as well as the Roldosista Ecuadorian Party (PRE).