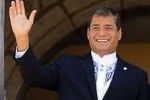 Ecuador's National Electoral Council (CNE) announced the official results of the February 17 general elections, confirming the victory of the binomial Rafael Correa and Jorge Glas, of the Alianza PAIS Movement.
Thus, both are proclaimed president and vice president, respectively.
According to data provided by the CNE, there were 4,918,482 valid votes, representing 57.17 percent.
Former banker Guillermo Lasso, candidate of the Creating Opportunities (CREO) Movement, was ratified as second with 1,951,102 votes, about 22.68 percent.
The CNE announced the final results 39 days after the election, and after the deadline for political organizations to submit administrative and litigation resources the law includes.
The handing over of credentials to elected officials will be held on Tuesday, April 9, during a ceremony at the Sucre Theater in Quito, National Electoral Council president Domingo Paredes said.
About 11,675,441 Ecuadorians were registered to vote, and of them, 9, 467,062 exercised their right to vote.
About 179, 230 ballots were blank and 684,027 were null votes, absenteeism compared to the 2006 elections was reduced by 8.9 percent, registering an 18.91 percent this year, while in 2006 was 27. 8 percent.