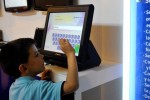 French-Canadian academic Herve Fischer highlighted today the priority given by the Cuban government to the formation of youths in careers of computer programming.
Fischer stressed the government has given a boost to education in those areas, thanks to which the country now has a generation of competent students to produce and develop initiatives at the same level of first-world countries.
Interviewed by Prensa Latina, the also president of the International Federation of Multimedia Associations considers Cuba is ready to lead initiatives in alternative digital media and project them with a specific Cuban vision according to the ideas of the Revolution, he added.
Fischer affirmed that would be enough to be proud of the Cuban identity, in a country with enough motivation to develop the communication and digital formation.
The academia participates in Havana at the 15th Convention and International Computer Science Fair 2013, which to his opinion, expresses Cuba's will to play an important role in communications.
The expert described the event that concludes today, a space of convergence of professionals from Latin America.
Cuba plays an important role in this meeting of Information Technology and Computer specialists as it is not a marketing game as in other countries, but the will of this nation to play an outstanding role in those spheres, explained Fischer.
The 15th Convention Informatica 2013 was atended by one thousand 400 delegates from 30 countries.