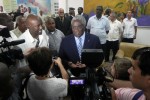 The President of Sao Tome and Principe, Manuel Pinto da Costa, ends today an official visit to Cuba, to strengthen bilateral relations.
The African statesman complied with an agenda that included official talks with his Cuban peer Raul Castro.
The two leaders talked about the bonds of friendship and cooperation between their respective countries, spoke out for strengthening these ties, and also talked on international issues.
Some few hours after arriving in Havana, Pinto da Costa paid tribute to Cuba's National Hero Jose Marti, at the statue erected in his memory in the Revolution Square in this capital.
His stay here included a visit yesterday to the Latin American School of Medicine (ELAM), where young people from his country are studying. As part of the agreements signed in the field of education, some 640 students from Sao Tome and Principe were graduated in Cuba, including 260 mid-level technicians and 380 on higher education.
The bilateral relationship has also allowed that more than 350 Cuban collaborators work in that African country.