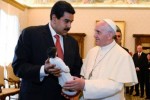 Pope Francis received Venezuelan President Nicolas Maduro with whom he debated the social situation and politics in Venezuela after Head of State Hugo Chavez died.
According to the Vatican press office, both leaders met for 20 minutes and also discussed current issues such as poverty, the fight against delinquency and drug trafficking.
Regarding the presence of the Catholic Church in Venezuela, Pope Francis and Maduro referred to its contribution in sectors such as charity, health assistance and education.
The leaders also debated other issues such as the regional situation, focusing on the peace process of Colombia.
During the traditional gift exchange, Maduro gave the Pope a portrait of Simon Bolivar and Hugo Chavez, a painting of Venezuela's patron Our Lady of Coromoto and a sculpture of Dr. Jose Gregorio Hernandez (1864-1919), who is under a canonization process.
Pope Francis gave Maduro a fountain pen and the document with the conclusions of the Latin American Episcopal Conference meeting, held in Brazil.