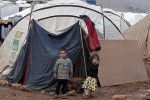 The Holy See presented a new program, Healthcare Mission for Syrian Child Refugees in Lebanon, promoted by Pope Francis, Radio Vatican announced.
The program, supported by the Pontifical Cor Onum Council, which oversees aid actions; pediatric hospital Bambino Gesu, and the humanitarian organization Caritas Lebanon, will begin in December and will last three months initially.
Providing medical assistance to children, including medicine and funds to improve their health, are the main objectives of the mission.
One of the organizers, Cardinal Robert Sarah, announced a trip to Lebanon in early December to supervise implementation of the initiative, which will help around 4,000 children with the first supplies allocated.
According to a UN report, 52 percent of two million Syrian refugees in the Middle East and the Mediterranean Sea are children.
Helping people without discrimination based on ethnic or religious differences is the most direct way to contribute to peace and the construction of a society open to all of its different components, said the Pope.