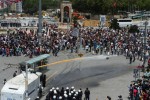 Turkish police arrested nearly 1000 people in some 90 demonstrations in 48 cities across the country against the government of Prime Minister Recep Tayyip Erdogan and his decision to remove Gezi Park in Istanbul.
Turkish Interior Minister, Muammar Guler said that 26 law enforcement officers and 58 civilians were injured, one of them seriously.
Guler said that many of those detained in the last two days have been released, while others wait for trial for participating in the protests that police dispersed with tear gas and water cannons.
The demonstrations began last Saturday in Taksim Square, around which is located Gezi Park, one of the few green areas in Istanbul, against the purposes of government to demolish the park facilities.
In February 2012, the cabinet approved the amendment of the abovementioned park, but some town planners emphasize that it was not examine the disposal to build a mall in the style of old Ottoman barracks.
Today, Taksim Square was under a steady rain, with dozens of people wandering among businesses and cars burned, but local media estimate that the protests could resume.
Erdogan yesterday expressed his willingness to dialogue with the demonstrators; however, they lack specific leaders, as passed, seemingly spontaneously, from opposing the removal of the park to demand the resignation of the Government.