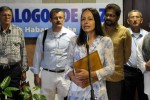 Peace talks for Colombia begin today a recess until April 2, after the end of a cycle in which progresses in the issue of access and land use were achieved, the parties stated in this capital.
The positive expressions of the Revolutionary Armed Forces of Colombia-People's Army (FARC-EP) and the government, expressed not only as a whole, but also separately, support the possibility of agreements on agrarian development, the first of six items included in the agenda of the dialogue.
In this sense, another sign is that the parties requested to the United Nations Representation in Colombia and the Center of Thought for Peace at the National University start preparing by late April a new forum on the following item of the agenda: political participation.
Through a joint statement released yesterday, the parties also invited the Colombians and social organizations to send proposals to the dialogue process at www.mesadeconversaciones.com.co.
The other issues under the agenda refer to the end of the armed conflict, the solution to the problem of illegal drugs, care for victims, and verification mechanisms and countersignature of any agreement reached at the negotiation table.
Despite the progresses expressed in news conferences conducted separately, the parties stated that obstacles persist in advancing the talks.
The head of the guerrilla representation, Ivan Marquez, said there are different views on issues such as mining, the problem of large estates, and the property limit in the countryside, the foreignization of the land and extensive cattle raising, and its contribution to an agrarian fund for the benefit of farmers.
On the other hand, the head of the government delegation, Humberto de la Calle, said "within the difficulties of so complex issues, the process of building the agreement is going well, although we would move faster."
Analyzing other issues, De la Calle mentioned some figures interested in the peace process, such as Pope Francis and Venezuela's acting president, Nicolas Maduro.
Meanwhile, the FARC-EP thanked Cuba and Norway, guarantor nations, for their effective support in the negotiation table created on November 19 at the Havana's International Conference Center.
The insurgent group also expressed condolences for the death of Venezuelan President Hugo Chavez, to his family, people and government of that South American country, which together with Chile act as companion in the peace process.
During the final day of the cycle, the FARC-EP had nine minimal proposals for the reaffirmation of sovereignty against transnational capital, among which the complaint or revision of the free trade agreement (FTA) signed by the Colombian government with other countries stand out.