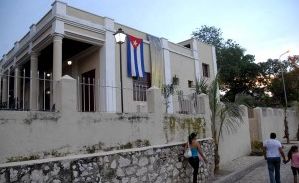 The members of the XXV Pastors for Peace Caravan, who arrived in Sancti Spiritus this July 29th, attended an evening event at the local Casa de la Guayabera (House of the Guayabera), where they held a friendly meeting with their hosts.
The visitors were welcomed by Carlo Figueroa, director of the institution, who explained that its major purpose is promoting and preserving the values of the guayabera shirt, which originated in this region 120 years ago.
Unlike other collections, the one kept at Casa de la Guayabera is totally composed of garments that have been donated by the owners themselves or their relatives. Thus, valuable and symbolic guayaberas are exhibited in the gallery like the one first used by Cuban Revolution leader Fidel Castro in 1993, when he attended the Ibero-American Summit in Cartagena de Indias, Colombia.
The collection also treasures guayabera shirts from Cuban President Raul Castro, and his late wife Vilma Espín Guillois; Colombian writer and Literature Nobel Prize winner Gabriel García Márquez; and Presidents of Bolivia, Evo Morales, and Ecuador's Rafael Correa, among others.
Puerto Rican Luis Barrios, co-director of Pastors for Peace Caravan, told Escambray about their satisfaction for being in Cuba, where they were all warmly welcomed. He also mentioned their participation in the 26th of July commemoration in Santiago de Cuba, and their tour to the rest of the island, including the short stay in Sancti Spiritus.
As Barrios said, this is the XXV caravan in 24 years. This time they didn't face problems to go through Canada or the United States, and had the opportunity to attend solidarity-with-Cuba activities in Mexico before their arrival in the island.