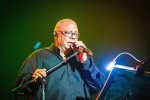 Singer and songwriter Pablo Milanes closed a series of concerts with a performance in this capital, where he sang his classic songs and invoked his immortal Yolanda.
In front of an audience, mainly in their 40 years, the author of some of the most emblematic songs of the Nueva Trova Movement gave an intimate, thoughtful and moving concert.
The musician performed at the crowded Lázaro Peña Theater, to which hundreds of people without tickets tried to access to, at least from an aisle, listening to Pablito, as he is known in Cuba.
Accompanied by virtuoso Miguel Nuñez and his group, Milanes sang some of his most famous songs, such as "Proposiciones" (Propositions), "Principio y final de una verde mañana" (Beginning and end of a green morning), "Dias de Gloria" (Glory Days), and Yolanda.
In addition to his songs, he sang "Amor de otoño" (Fall Love), one of the new tracks of his latest album, and maintained his usual accomplice and sober dialogue with his followers.
Cuban journalist Leticia Martinez felt this concert more intimate and close than that given by Milanes few months ago at the Karl Marx Theater.
The singer performed last week in the eastern cities of Santiago de Cuba and Camagüey, and shortly before he was among the artists who honored Cuban reciter Luis Carbonell, for his 90th birthday.