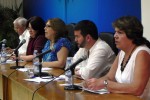 Representatives of the Cuban civil society are carrying out an online debate this Friday about human rights in the island, in which its organizers expect participation of various Internet users from different parts of the world.
Summoned by the Cuban United Nations Association (ACNU), the forum will open with the introduction of four panellists from the Cuban Women's Federation, the National Union of Lawyers, the National Union of Writers and Artists, and the National Council of Churches.
In statements to Prensa Latina, ACNU General Director Soraya Alvarez said that those entities play an important role in the education and defense of human rights in the Caribbean country.
According to Alvarez, the online debate forum also supports the report Cuba will present in Geneva, Switzerland on May 1, as part of the Universal Periodic Review of the United Nations Council, which examines the human rights situation in all U.N. member states.
The report includes all of Cuba's achievements and plans in areas such as access to healthcare, education, culture, sports, social security, freedom of religion, treatment of prisoners, gender equality, and assistance to children.