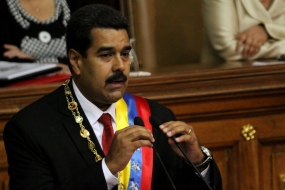 Nicolas Maduro promised to continue the legacy of the late leader of the Bolivarian Revolution, Hugo Chavez, and asked him for protection and wisdom.
Nicolas Maduro vowed to continue the legacy of justice started 14 years ago by the late leader of the Bolivarian Revolution, after being  sworn-in this April 16th as democratically-elected President of the Bolivarian Republic of Venezuela.
The presidential sash was received from President of the National Assembly, Diosdado Cabello, and Maria Gabriela Chavez, the daughter of late president Hugo Chavez.
"I would like to start this speech by asking for protection and blessings from Commander Hugo Chavez so that he gives me wisdom to get to know how to build a homeland of peace, love, inclusive, of all and for all Venezuelans," said Maduro during his first address to the nation as President.
He recalled the 203th anniversary of the country's independence from Spain, now in democracy, peace and with an entire people aware.
Maduro appreciated the presence in the inauguration ceremony of 17 heads of State and 61 delegations from around the world, as well as the expressions of solidarity and international support.
[nggallery id=66]