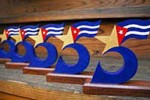 A panel about the case of the five anti-terrorist Cuban fighters unfairly given harsh sentences in US prisons has been called for June in the city of New York, it was announced in a communiqué today.
The event is part of activities of the Left Forum, to be held on June 7-8, expected to be attended by thousands of people, said the National Free the Five Committee.
According to the solidarity group, the invitation was made in New York to all supporters of Gerardo Hernandez, Ramon Labañino, Antonio Guerrero, Fernando Gonzalez and Rene Gonzalez, internationally known as The Cuban Five.
Famous lawyer Martin Garbus, a member of The Cuban Five's legal team; Stephen Kimber, a professor of the University of King's College; Peter Roman, a professor in Hostos Community College; Keith Bolender, a professor in the Toronto University and Gloria La Riva, coordinator of the Committee, will be among the panellists.
The communiqué adds that besides the demand for the immediate release of these Cuban heroes, the panellists will examine the hostile US policy of blockade imposed on Cuba for over fifty years by successive US administrations.
The case of the Cuban Five is "an example of the US intransigence," said the Committee.
Left Forum is a yearly conference that gathers in New York wide range left wing, progressive intellectuals, activists, scholars, organizations and public in general to discuss and share ideas about the current world situation.