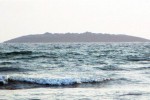 The earthquake that shook the Pakistani province of Baluchistan on Monday was so intense that it created a small island off the country's coast in the Indian Ocean.
The rocky island is around 40 square meters in size and rose some 12 meters above sea level.
Focused on presenting the magnitude of the tragedy, which killed nearly 200 people and caused serious material damage, local television are reporting the unusual phenomenon, which occurred 1.5 kilometers away from the city of Gwadar.
The 7.7 magnitude earthquake occurred on Tuesday at 4:29 (local time).
The tremors shook a large area in southeast Pakistan as well as faraway places like New Delhi, the capital of India.
Still incomplete reports note that at least 216 people died as a result of the quake that shook the southwestern Pakistani province of Baluchistan, where a state of emergency was declared.
Government spokesman for the territory Jan Mohammed Buledi stressed that rescue works are underway and the death toll is likely to increase.