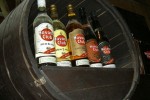 A new Cuban rum was presented this Friday by the authorities of the corporation Havana Club International Ltd. (HCI), at the National Museum of Fine Arts in Havana.
HCI General Manager Jerome Cottin said in the ceremony that it was rum with the same characteristics of Havana Club 7 Years, with the purpose of registering it in the US market.
That measure is due to the trade war unleashed by the economic barriers of the blockade policy imposed on Cuba by Washington since the '60s in the previous century and recently hardened.
US legal authorities unauthorized recently registration of Cuban rum Havana Club and the corporation Havana Club answered with the presentation of Havanista.
This event took place during the celebrations on the 20th anniversary of the first presentation of that brand, as a result of the creation of the joint venture on November 22, 1993, starting from agreements between the French marketing company Pernod Ricard and the local factory Cuba Ron.
Those initial businesses in 1993 were carried out in the presence of Cuban leader Fidel Castro, as Cottin recalled.