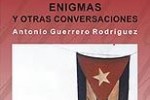 Antonio Guerrero is one of the five Cuban anti-terrorist fighters unjustly held in US.
The Pablo de la Torriente Brau Cultural Center will present a dozen titles in the upcoming International Book Fair, Cuba 2013, among them "Enigmas y otras conversaciones" (Enigmas and other conversations), by Antonio Guerrero Rodriguez.
The book, created among friends, includes poetry, letter exchanges, chronicles, photographs and paintings done in pastel, and other materials based on questions posed to the Cuban singer Silvio Rodriguez. Its author is one of the five Cuban anti-terrorist fighters unjustly held in the United States.
In an interview conducted by Carmen del Pino with Guerrero, author of "Desde mi altura" (From My Altitude), he explained that the idea emerged from a poem (Enigma) he wrote "to our brother Silvio Rodriguez" on the occasion of his birthday.
Responding to a question regarding the structure of this volume, Tony, as Guerrero is known, stated that it corresponds to the vision, work and brotherhood of the Pablo de la Torriente Brau Center, particularly its director Victor Cassaus, with The Five, as these Cuban fighters are internationally known.
He said that the pastel paintings, a technique he taught himself in prison, emerged from photos taken and then sent by Silvio, showing snapshots of his concerts in Havana neighborhoods.
During the exchange of letters, the singer suggested that Tony create his own composition, and on the basis of six photos, he created a piece with people from different neighborhoods, a project which included the "beautiful and historic images of other photographers," he said.