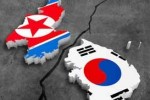 A North Korean spokesman said that the situation in the peninsula "approaches to a thermonuclear war" and advised residents, companies, and tourists in South Korea to adopt measures for their evacuation, KCNA reported.
A spokesman from the Asia-Pacific Peace Committee unidentified by the agency urged the evacuation of the foreigners in the neighboring country, saying that the current panorama "seriously affects peace and security not only in the peninsula but also the rest of the Asia-Pacific region.
According to the spokesman, the United States and South Korea await the opportunity to start a war against the Democratic People's Republic of Korea (DPRK), while introducing weapons of mass destruction in the southern area of the peninsula.
Tensions on the Korean peninsula have escalated in recent weeks, due to the sanctions by the UN Security Council against the DPRK, and the conduction of extending military exercises between the United States and South Korea.