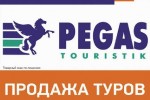 The tour operator Pegas Turistik, Russia, which will operate during the upcoming season in Cuba with vacationers from that country inaugurated this Saturday a direct flight from Moscow to Varadero, main resort of this nation.Every fortnight, the European company will employ 364 seats Boeing 777 aircraft to the airline Orenair, told Prensa Latina Irina Lavrenova, supervisor of the tourist company in the Caribbean area.
"Cuba is beautiful and Russian tourists are very interest in visiting du to its beaches and sunshine. This operation, initially, will remain until May and I think it will be mutually beneficial for being an important destination," she added.
Thirty travel agents, members of a familiarization group traveled on this first flight, which landed at the international airport Juan Gualberto Gomez Varadero, 130 kilometers east of Havana.
Rolando Marichal, president of the branch of Cubanacan travel agency in Varadero, said the Russian market remains one of the main visitor arrivals to Cuba and especially to this pole.
"In the period January-September 2013 the operation of the travel agency Cubanacan presents a substantial increase of clients, ratifying it as a leader in Cuba receptive to this important segment," he explained.
"With Pegas Turistk we have three years of successfully work," he added.
Besides Varadero, the Russian company moves customers from the Caribbean region to Cancun in Mexico and Punta Cana in Dominican Republic.
Varadero is located on the north coast of the western province of Matanzas, with 51 hotels and more than 20.000 rooms.
The year 2012 closed in the 10th position in the Top 25 beach destinations in the world, according to the digital portal Tripadvisor.
Also last year, the famous beach, also called Playa Azul, completed for the fifth consecutive period of 12 months, the reception of more than one million foriegn tourists.