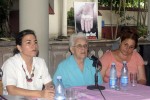 A meeting between relatives of the Cuban Five and members of the Pastors for Peace Friendship Caravan, reaffirmed the solidarity between the two peoples, in favor of the release the antiterrorist fighters.
Present at the meeting, held at the Cuban Institute for Friendship with the Peoples (ICAP), were Mirta Rodriguez, mother of Antonio Guerrero, and Elizabeth Palmeiro, wife of Ramon Labañino, as well as Gail Walker, daughter of late U.S. Reverend Lucius Walker and current co-director of the movement.
During the meeting, in which a group of young Belgians of the organization Christians for Socialism participated, Rodriguez expressed her gratitude for the solidarity and courage of those who have supported the cause of the five antiterrorist heroes since the beginning.
Likewise, she stressed the importance of continue spreading the issue, particularly now, when it has been demonstrated that the U.S. government paid journalists so they lied in everything related to this judicial case.
Along with Antonio and Ramon, Gerardo Hernandez and Fernando Gonzalez continue to be in U.S. prisons, while Rene Gonzalez could return to his family in Cuba after 13 years and one month in prison, a year and a half of supervised release, and the relinquishment of his U.S. citizenship.
Also during the meeting, Gail Walker reiterated the commitment of the Caravan members of maintaining a continuous struggle with respect to the cause of The Five, and expressed the pride that participating in such honorable battle represents for them.
Tamara Hansen, coordinator of Communities of Vancouver in Solidarity with Cuba, commented about the importance of consistency in the struggle for the return of these fighters to their homeland and spoke about the activities carried out in Canada in favor of their cause.