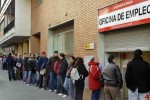 Spanish Head of Government Mariano Rajoy defended here his working reform Tuesday, which had been put in force by his administration a year ago, though more than 850,000 jobs were cancelled in that amount of time.
Speaking in a conference organized in Madrid by British weekly The Economist, Rajoy stated that the changes in the working market are starting to give fruits despite the almost six million unemployed people in Spain.
According to Rajoy, the first traces of a change of pattern to adjust the working market are already starting to be seen.
The regulation was approved in February 2012, and according to trade unions it cheapens and facilitates the workers' layoffs.
Precisely, two organizations, the General Workers Union of Spain (UGT in Spanish) and Comisiones Obreras, denounced Monday that the legislation was only useful to speed the destruction of jobs, devaluate salaries and dismantle the existing working relations frame.
These are the two biggest Spanish trade union organizations, and considered the reform contributed to the dismantling of the current system for collective agreements, turning layoffs into a way to increase productiveness, and not a way to organize the work of the companies.
The unemployment in Spain increased in 691,800 people in 2012, to get closer to 6 million unemployed people.
However, Rajoy said they should wait for some time to get a full vision of the impact of the reform, and predicted that in the second half of 2013 and the year 2014, the Spanish economy will recover positive rates of growth.
Finally he said Spain will reduce its primary structural deficit in 3.5 points of the Gross Domestic Product.