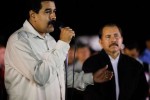 Venezuelan President Nicolas Maduro announced that Petrocaribe economic zone will start operating as of June 29, in the context of the presidential summit the bloc's state member will hold in Managua.
The South American president was welcomed Saturday at Augusto C. Sandino International Airport in Managua by his Nicaraguan peer Daniel Ortega.
In statements from the airport facility, the visitor stated that the Petrocaribe economic zone will be a big step, with the loving influence from who took politics as redemption of the peoples, the late President Hugo Chavez.
With this economic space, the 18 country members expect to develop productive sectors, as a complementary plan to the energy security offered to those Central American and Caribbean states.
Antigua and Barbuda, Bahamas, Belize, Cuba, Dominica, Grenada, Guatemala, Guyana, Haiti, Honduras, Jamaica, Nicaragua, Dominican Republic, St. Kitts and Nevis, Saint Vincent and the Grenadines, Saint Lucia, Suriname, and Venezuela are currently Petrocaribe members.
Petrocaribe and the Bolivarian Alliance for the Peoples of Our America (ALBA) give continuity to the ideals of the founding fathers of the region, whose struggle flags for emancipation will continue raised, Maduro said.
Against capitalism and its neoliberal policy, loaded with injustice, envy and permanent betrayal, there is another policy, supported by men such as Hugo Chavez, which we have taken into our hands for the true happiness of the peoples, he said.
ALBA is essentially a human alliance for the happiness of the peoples, we seek economic prosperity, not for the transnational capital accumulation, but for the social happiness of the peoples, expressed in more education, health, and right to food, Maduro stated.
In welcoming remarks, Ortega also stressed the common ideals: Maduro and his delegation are the children of Bolivar and Chavez who come to the land of Sandino to reaffirm our commitment to continue fighting for freedom, justice, sovereignty, and above all for unity.
In opinion to the Sandinista leader, this is the growing desires within all Latin America and particularly among the peoples that we have joined to the ALBA and Petrocaribe, historical projects emerged by Fidel Castro and Hugo Chavez.