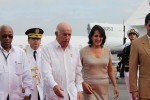 Cuban Vice-President Jose Ramon Machado Ventura arrived in the Ecuadorian city of Guayaquil on Monday to attend the 12th summit of the Bolivarian Alliance of the Peoples of our Americas regional integration bloc.
The Cuban Vice-President is being accompanied by Foreign Minister Bruno Rodriguez. The two top government Cuban officials were welcomed with the corresponding military honors by members of the Ecuadorian Foreign Ministry. The visitors and their hosts exchanged views on the regional integration bloc, its significance and the need to strengthen its performance.
Machado Ventura will attend the presidential segment of the meeting on Tuesday, which will focus on the institutional strengthening of the bloc and the expansion of its currency known as Sucre. The meeting's agenda also includes the common fund of reserves and the unfolding of social programs, according to the Ecuadorian Foreign Ministry.
The summit of the regional integration bloc, known as ALBA, will be attended by the heads of state and government, as well as by official delegations from the countries making up the organization, which are  Venezuela, Cuba, Bolivia, Nicaragua, Dominica, Ecuador, San Vicente y las Granadinas, Antigua y Barbuda y Santa Lucía.
Meanwhile, Uruguay, Argentina, Brazil, Suriname, Guayana and Haiti will be guests to the summit.