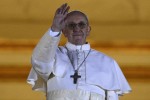 The Catholic Church elected today as new Pope, Jorge Mario Bergoglio, Francis I, Archbishop of Buenos Aires and President of the Pontifical Commission for Latin America.
The member of the Jesuit Order is 76 years old and led the first prayers before thousands of followers gathered at the front of the Saint Peter's Basilica.
Francis I is the first non-European Pope in more than one thousand years.