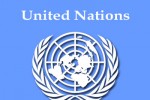 Speeches by Latin American and Caribbean presidents are the most highly awaited during the second day of top-level discussions at the U.N. General Assembly, where the focus is on the millennium objectives and sustainable development.
According to the list of speakers published here, Presidents Evo Morales, Nicolas Maduro (attendance unconfirmed), Ollanta Humala, Mauricio Funes and Ricardo Martinelli, of Bolivia, Venezuela, Peru, El Salvador, and Panama, will take the floor, in that order.
Prime Ministers Kamla Persad-Bissessar and Winston Spencer, of Trinidad and Tobago and Antigua and Barbuda, respectively, will also speak before the plenary of 193 countries corresponding to the 68th period of sessions.
The speech by Morales has generated particularly great expectations, after noting yesterday to the press the cynicism he saw in U.S. President Barack Obama's speech before the Assembly.
"I have seen great cynicism in Obama. He comes to the U.N. to lie. He speaks of freedom, justice and peace, when the United States has military bases all around the world and intervenes in other countries to seize their natural resources," he said.
The U.N. General Assembly is devoting its discussions to the meeting of the Millennium Goals, set in New York 13 years ago to be met by 2015. Strategies for sustainable development and eradication of poverty are to be in place when the deadline arrives. Climate change and current issues like the crisis in Syria are also on the agenda.
Discussion of these issues is expected to continue during the next six days of the event, presided over by Antigua and Barbuda's diplomat John Ashe.