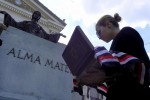 Bolivian filmmaker Jorge Sanjines said this Saturday that the death of the president of the Havana Film Festival, Alfredo Guevara, means the loss of one of the foundational pillars of cinema and the Latin American identity.
Sanjines, one of the great masters of the New Latin American Cinema, acknowledged his deep shock after knowing the news of Guevara's death by a Prensa Latina call.
"I was very embarrassed. Alfredo devoted his life to encourage Latin American cinema, Bolivian filmmakers will always be grateful for his efforts to make us know, for his strong support," he said.
The author of classics such as "La nacion clandestina" (The Clandestine Nation) and "Ukamau" recalled his first meeting with Guevara in Havana in 1968, and how since then they forged a friendship that went beyond the years and the distance between Cuba and Bolivia.
"One of the things that struck me more when I met Alfredo was his prodigious intelligence, his vision for the future. I think he was one of the great visionaries and intellectuals of the New Latin American Cinema," Sanjines said.
Sanjines, an ALBA prizewinner in Literature and the Arts, recalled that in one of his trips to Cuba, Guevara accompanied him to the airport at four o'clock, both were exhausted, but the Cuban hid he was tired.
Alfredo Guevara, founder and main sponsor of the Havana Film Festival, passed away yesterday at the age of 87, due to a heart attack. By express wish, his ashes were scattered this afternoon at the stairs of the University of Havana.