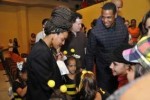 US raper Jay -Z rejected the critism of congress men who questioned his recent trip to Cuba with spouse Beyonce, accusing them of laying and distorting history.
"Politicians never did … for me, except lie to me, distort history" raps the singer in his single Open Letter, inspired in his recent visit to Havana along with Beyonce, as part of a educational exchange.
The song, co-produced by Jay-Z with Swizz Beatz and Timbaland, expresses all the political skepticism of the well-known music entrepreneur, and the double standards of the conservative right in the United States.
"This communist talk is so confusing, when it's from China, the very mic that I'm using", satirized the raper while expressing his love for the legendary Cuban Habanos.
"Wanna give me jail time and a fine? Fine, let me commit a real crime", challenged the producer, who questions the illegallity of travelling to Cuba.
However, Washington prohibits US citizens to travel to Cuba, except with special license, because of the economic blockade imposed despite the broad international condemnation.
In this regard, lawmakers Ileana Ros-Lehtinen and Mario Diaz Balart, of known anti-Cuban position, recently demanded an investigation into the artists' trip.
But Jay-Z and Beyonce traveled under an educational exchange, organized with the permission of the U.S. Treasury Department's Office of Foreign Assets Control.
In fact, the couple visited Cuba Higher Institute of Art, attended a rehearsal of the National Contemporary Dance Company, and witnessed the formation of children's talents in the cultural project La Colmenita (The Litter Beehive), UNICEF ambassador.
Unlike Ros-Lehtinen and Diaz-Balart, Republican Senator Jeff Flake expressed on Twitter social network his support for the total liberation of US citizens to travel to Cuba.