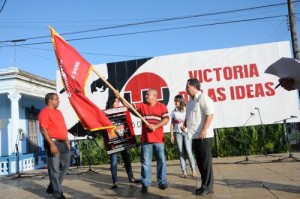 Jatibonico was the venue of the 26th of July major commemoration in Sancti Spiritus, central Cuba. The ceremony was held by the obelisk erected to honor the memory of Antonio Darío López, who participated in the assault to Carlos Manuel de Céspedes barrack, and was one of the expeditionary men aboard Granma Yacht.
José Ramón Monteagudo Ruiz, first secretary of the Party in the province, and Léster Alain Alemán Hurtado, member of the Council of State of the Republic of Cuba, presided over the act, also attended by top local political and governmental authorities.
The occasion was a good opportunity to announce the incorporation of new members to the Youth Communist League and to the Cuban Communist Party political organizations, and to acknowledge several local enterprises and bodies with outstanding results.
When delivering the key speech of the ceremony, José Ramón Monteagudo Ruiz briefed on the major outcomes of the province during the first half of the year. He highlighted the infant mortality rate (1.3 per 1000 alive births), the increase of the commercial production, and the overfulfillment of the sugar production plan, among other favourable results.
The top party leader also called to be consistent with Raul Castro's request to fight social indiscipline, corruption and crimes. On behalf of Sancti Spiritus's residents, Monteagudo sent a message of admiration and respect to our heroes who are kept as political prisoners in U.S., where they heroically resist the cruelty of that government.
[nggallery id=73]