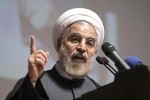 Iranian President-Elect Hassan Rouhani said that his country and Saudi Arabia can restore peace and stability in the region, in response to a congratulations message from King Abdullah bin Abdulaziz.
"Peace and stability can be restored in the area with the regional nations's prudence," said Rouhani in response to the letter sent by the Saudi king following the announcement of his victory in last June 14 presidential elections in the Persian nation.
The president-elect, who should assume power on August 3, added that one of the Iranian foreign policy's priorities is to focus special attention on the neighbouring and regional nations, according to the presidential message version released by IRNA news agency.
Iran and Saudi Arabia have different positions on the growing U.S. military presence in that zone, as well as in relation to the Syrian conflict.