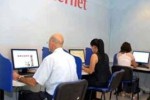 Since the opening in early June of 118 facilities for Internet access, nearly 11,000 Cubans have used those services, Juventud Rebelde newspaper reports.
According to the daily, Jorge Legra, Director of Strategic Programs at the Cuban Telecommunications company (ETECSA), Cuba provides more than 30,000 accounts for data transmission and internet access, which are accessed by 1.7 million users.
Most of those who have access to this service are associated with prioritized sectors, such as education, health, science, and others, Legra added.
Before year-end, ETECSA intends to open 10 new Internet navigation facilities in several Cuban provinces. As well, the phone company is working to install Wi-Fi networks, to achieve a gradual transfer from switched networks to ADSL.
Since June 4, Cuba has opened 118 navigation facilities, adding to the 200 already existent in many hotels throughout the country, expanding public access to web browsing and email.
The increase in access is due to "the installation of a fiber optic cable between Cuba and Venezuela, guaranteeing a higher quality and stability for Cuba's international communications," he said.