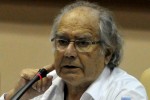 Nobel Peace Prizewinner in 1980, Argentine Adolfo Perez Esquivel, will give today a special presentation on the second day of the Third International Meeting for World Equilibrium, taking place in this capital.
The 82-year-old Argentine intellectual, who participated with young Cubans in the March of the Torches, on the eve of the 160th anniversary of the birth of Cuban national hero Jose Marti, stated that the independence hero, as well as a poet, was a visionary.
In recent statements to Prensa Latina, Perez Esquivel praised Marti's ability to break the mental colonization that meant having Europe and the United States as reference, which were the mirror in which they wanted to see our nations, to turn into the roots of the native peoples.
Brazilian theologian and intellectual Frei Betto also expects to give a master lecture, to analyze the issue of Jose Marti and the world equilibrium.
Today's agenda also includes a master lecture by Argentine political scientist Atilio Boron, entitled "El imperialismo es como la víbora: puede cambiar de piel pero no modifica su esencia" (Imperialism is like a viper: its skin may change but its essence does not modify).
People's Power National Assembly President Ricardo Alarcon will hold a dialogue in the afternoon with the participants in the forum, to tackle the issue of the five Cuban antiterrorist fighters unjustly held in U.S. jails.
Gerardo Hernandez, Fernando Gonzalez, Ramon Labañino, Antonio Guerrero and Rene Gonzalez are serving long prison sentences since 1998, for monitoring anti-Cuban extremist groups in Miami.
More than 800 delegates, representing 39 countries of the five continents, will close the second day with a solidarity meeting organized by the Cuban Institute of Friendship with the Peoples, to be held at the Havana Friendship House.