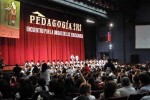 The International Congress "Pedagogia 2013" takes place in this capital with a program including special lectures by UNESCO Assistant Director-General Qian Tang, and UNICEF representative in Cuba Seija Toro.The event that takes place from February 4 to 8 at the Havana's Conference Center, also includes today a speech by General Secretary of the Organization of Ibero-American States for Education, Science and Culture (OEI), Alvaro Marchesi Ullastres, about comprehensive care to children.
Other activities are the panel Expectations and achievements of the Cuba-Venezuela Educational agreement, as well as, the presentation of audiovisual materials related to the Caribbean island's national hero Jose Marti.
Pedagogy 2013, an event that brings together some 3,000 participants from more than 31 countries, began yesterday afternoon with a special lecture by Cuban Education Minister Ena Elsa Velazquez, who analyzed the challenges of the sector in Latin America and the Caribbean.
In this sense, Velazquez stated that a quality education requires concerted political will at national and international levels, and democratic participation of the whole society.
She added that to prepare man for life is a mission that transcends the frameworks of the educational system, as it requires the consensus of many agents that affect the forming process.
The minister referred to the progress the Latin American continent has made in education, which emphasized on the progressive strengthening of an educational offer for the young childhood.
The minister talked of the importance of the creation and strengthening of the Community of Latin American and Caribbean States (CELAC), the only organization that brings together 33 independent countries of the area.