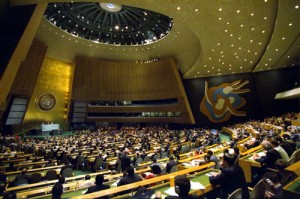 The UN General Assembly is preparing today a new call for lifting the blockade the United States has maintained on Cuba, a unilateral policy rejected by this world body in the last 21 years.
The main UN agency, represented by 193 member countries, will begin at 10:00 local time the discussion of a draft resolution on the necessity of ending the economic, commercial and financial blockade imposed by Washington to the island for more than 50 years.
The vote of the initiative, a similar document that has received since 1992 strong support from the world, with more than 180 nations supporting it for the last seven years, should be at about midday.
The 38th plenary session of the General Assembly, which began its 68th period of session on September 17, also includes in the agenda the presentation of a report about the blockade, by UN Secretary General, Ban Ki -moon.
The secretary's document includes information provided for about 150 countries, the European Union, the Holy See, and specialized UN agencies, the vast majority to secure stance against the U.S. blockade, state its impact and advance support for the draft resolution.
Cuba sent a text setting forth in detail the impact of the blockade by sectors, and denounces its extraterritorial nature and its strengthening in financial matters by the current U.S. administration, led by President Barack Obama.
The project to be voted on by the Assembly calls on the principles of sovereignty and equality of the states, the freedom of trade and navigation, and the non-interference in internal affairs, to demand the lifting of sanctions from Washington.
It also expresses concerns about the extraterritoriality of the siege, as of laws such as the Helms Burton Act in 1996, and recalls the international rejection to the unilateral measure.
A month ago, more than 40 presidents, prime and foreign ministers of the five continents asked in the general debate of the 68th period of session of the Assembly to end the blockade, which was described as genocide, illegal, and a relic of the Cold War.